Airshow Visit 2004
On 24 September 2004 I went to the Africa Aerospace and Defence Expo 2004 at Waterkloof airbase to see all the aircraft. As usual, the place was packed with people (many of whom didn't seem even vaguely interested in aircraft at all), and was really hot and dusty.
USAF contingent
On arrival, the most eye-catching thing was the towering tailplane of the enormous USAF C-5 Galaxy transport plane.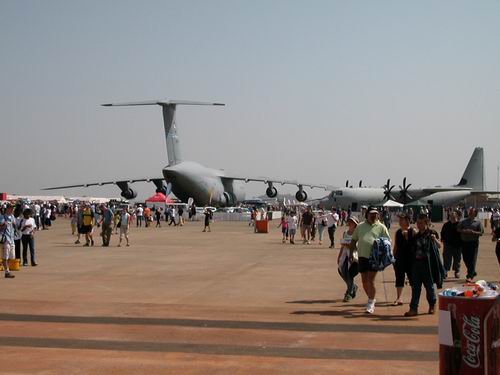 Click on the image above to view more pictures of the USAF aircraft
So we went a bit closer, and checked the US aircraft out. They were all from the New York Air National Guard, who had been invited over by a South African delegation that had visited New York a while ago. They were delighted to be here, and had brought along with them an air/sea rescue Pavehawk helicopter (derived from the Blackhawk), an F-16 Fighting Falcon, a KC-135 air-refuelling tanker, and their C-5 cargo plane. Both the Pavehawk and the F-16 had travelled in in the Galaxy.
Display aircraft
We wandered around a bit, and took a look at all the other stationary aircraft around.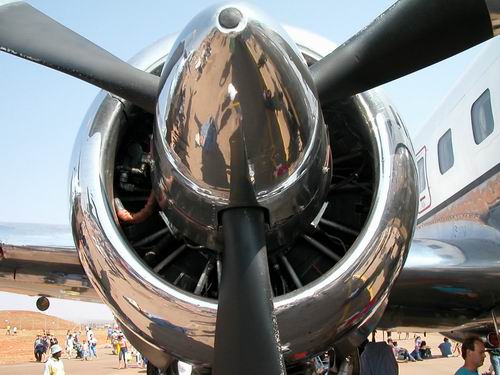 Click on the image above to view more pictures of stationary aircraft
Airbus A340-600
The new Airbus A340-600, being delivered to SAA at the moment, took a flight. It seemed to be surprisingly manoeuvrable, but the astounding thing about it was the noise. Despite being flown 50' above the runway and less than 100m away from us, I don't think it would have woken a sleeping person up. It was really, really quiet, considering those four huge turbofans. The commentator mentioned that the pilots loved doing airshows in South Africa because in most other countries, they have some serious minimum height restrictions - 600' in Europe, for example.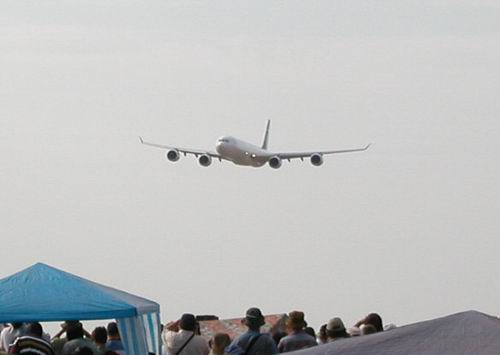 Click on the image above to view more pictures of the Airbus A340-600
The Gripen
The Swedish-built SAAB Gripen multi-role fighter is now being delivered to the SAAF. They had one showing off a bit. Unfortunately, due to its small size and speed, I couldn't really get any close up shots.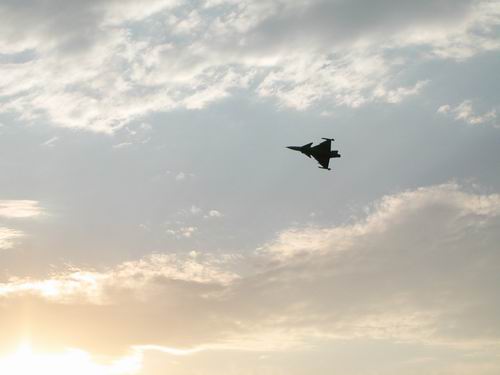 Click on the image above to view more pictures of the Gripen
Rooivalk
The South African Rooivalk is known to be a really competent attack helicopter. There was one on display, and three took to the air for demonstrations.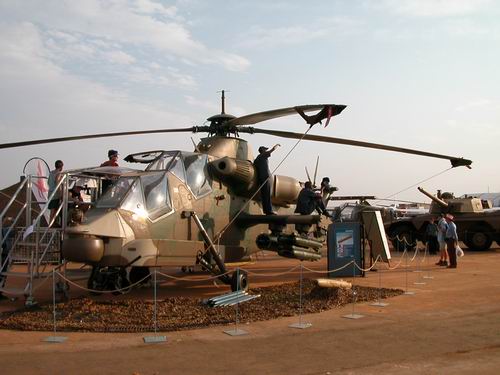 Click on the image above to view more pictures of the Rooivalk
Aerobatics - other flights
A number of other aircraft flew too. Noisiest, in general, were the Mirages and Cheetahs. They're one-trick ponies - all they really do is scorch back and forth at almost Mach 1 in front of the crowd, delivering impressive roars. There was a Mirage III painted like the South African flag - beautiful - not to mention a two-on-one fight demonstration by a Mirage and two Cheetahs.
A Russian Il-76 took a flight too. Sadly, I didn't see the Antonov An-124 anywhere, though it was supposed to be there - that's the largest aircraft I've ever seen.
Thunder City Aviation were there. This company owns several ex-military jets, and flies them regularly. This time, they flew a Buccaneer. This awkward-looking naval aircraft always looks so lumpy and clumsy on the ground, but in the air, it transforms into a graceful, and very noisy, swan.
After the airshow finished, Thunder City flew a Lightning. This was theoretically for some or other "qualification" reason, but I think it was to give us Lightning-nuts a chance at seeing one of the the most amazing aircraft around. It was absolutely beautiful - the sun had just set, and in the twilight, we could see the purple-orange glow from the over-and-under shotgun-style jet exhausts every time the pilot hit the afterburners. It's also one of the loudest aircraft I've ever heard, and it was the only one there that actually made the ground shake when it flew past. Sadly, due to the light, I could only get one picture, and it was blurred.
The South African aerobatic team, the Silver Falcons, were there in their Pilatus aircraft. Sadly, though they're nimble and look good, they're so quiet that there's no drama. It's like watching fireworks with earmuffs on.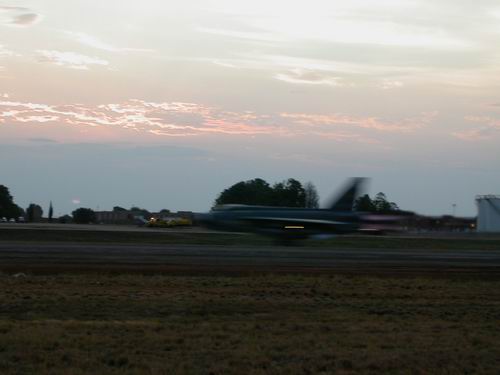 Click on the image above to view more aerobatic display aircraft
Other displays
There were also displays of assorted armoured vehicles and tanks that Heather took great delight in clambering all over. One hall was filled with models - model aircraft, model trains, wargames, and much more - I was quite staggered. There was even a scale model of the alien from the movie "Alien". And finally there were even camels to ride on...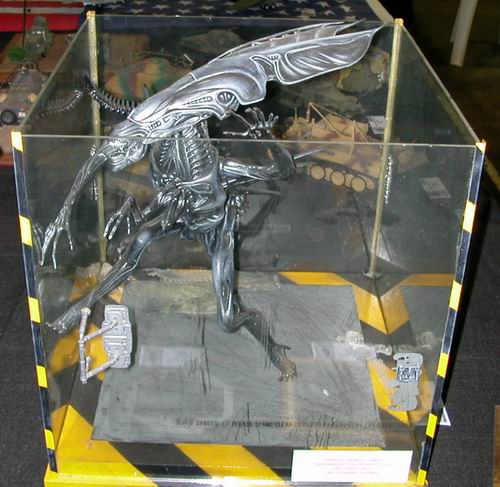 Click on the image above to view more pictures of other displays
Technical Note:
I took all the pictures here with Melancthe's Nikon CoolPix 2500. It's a really neat snapshot camera, and in environments like this, it was handy having a lens that rotated away, protecting it from the dust. Most of the in-flight pictures were taken at maximum zoom. Because there's a second or so time gap between pressing the button and the picture being taken, in many cases I had to predict where the aircraft would be when the picture was taken, or I had to try to follow it with the camera. All in all, though, I pretty much got it right.