The Crumple Zone Gallery
On 27 October at 16:45 I was involved in a head-on accident with a Mazda Midge. I went through an intersection on an orange light at the same time that someone else turned across me from the other direction on the orange. Here are a few pictures taken afterward.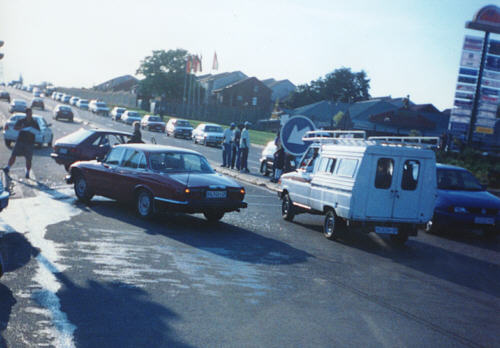 Taken from behind in the intersection, you can see that the Jag doesn't have damage obvious from behind. On the bottom right corner you can see my tyre marks. The hapless Midge is beyond the Jag. You can see a great deal of coolant on the road at the left, coming from both cars.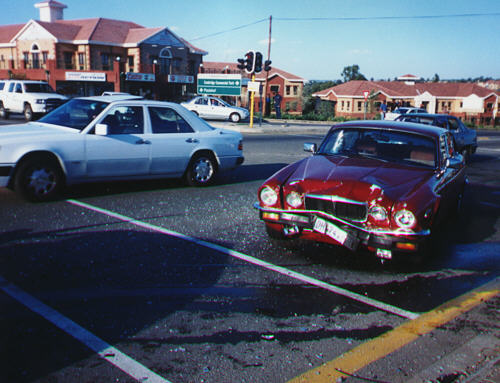 The damage at the front looks worse. The RF headlight survived, but the big US-spec bumper didn't, and nor did the radiator.
Here's a pic of the Mazda (the Jag is beyond it). As you can see, the whole front end is crushed - note the camber on the wheel. The Mazda was spun 180° and bounced about 8 metres from the point of impact. It was hit on its left front corner.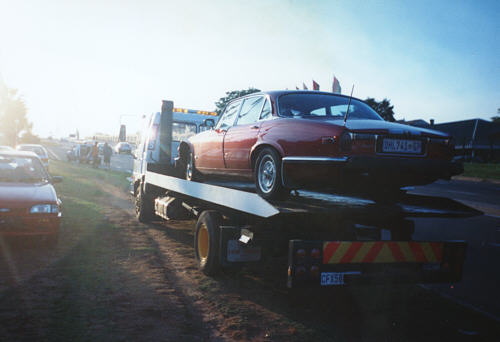 Here's my Jag sitting atop the flatbed, ready to be taken to the panel beater.
The work has started, and is being covered by the insurance company. The final quoted is R15400 (US$2600), knocked down from the original quote of R23000 (US$3800) by the insurance assessor. The panel beater is Auto Haus, in Randburg - so far I'm not terribly impressed with their service, but I'll see how good their work is.

Copyright ©1999 G R Adamson
Last updated: 9 November 1999